In a recent webinar by UK-based Institution of Civil Engineers (ICE), three female engineers spoke about how engineering has been a rewarding career for them, despite its challenges. 
The ICE is the oldest civil engineer association in the world. The online event, moderated by Ms Merry Natalia of Geoinventions Consulting Services Pty Ltd, was attended by a wide audience including professional engineers and engineering students in Jakarta in Indonesia.
Diversity of experiences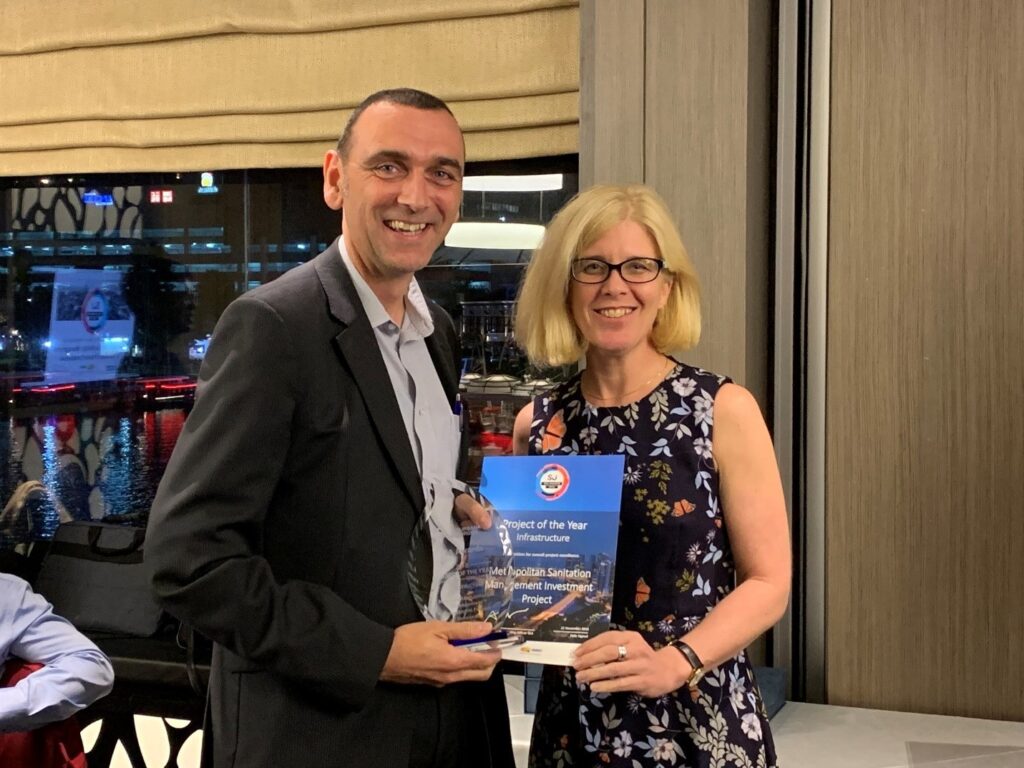 Ms Karen Atkinson, Deputy Chief Operating Officer at SMEC and Surbana Jurong, oversees Surbana Jurong and SMEC businesses in South East Asia and the Pacific. Here she is presenting an award for the Project of the Year.
Ms Karen Atkinson, Deputy Chief Operating Officer at SMEC and Surbana Jurong in the Southeast Asia and Pacific region, spoke about the importance of gaining a wide variety of experiences in order to become a well-rounded engineer. 
This could mean taking on on-site work, design office work, accepting project management roles, and working across different sectors. With a civil engineering background and 25 years' industry experience, Ms Atkinson encouraged female engineers to take any opportunity to learn and broaden their horizons. "There are always plenty of people you can learn from around you, make sure you grab any opportunities presented with both hands!"  
A supportive team on the South Sumatera LRT project
Ms Frenchsie Kumoropotri, a civil engineer based out of the SMEC Jakarta office, enjoys the diversity of her work on the South Sumatera LRT project.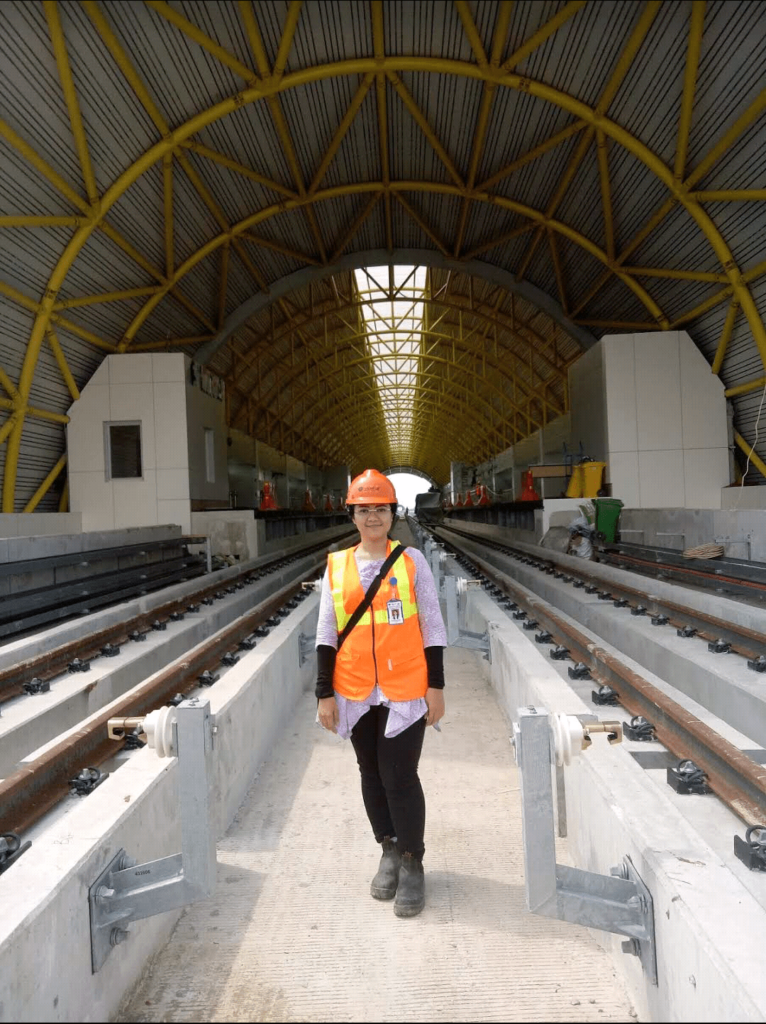 Frenchsie Kumoropotri at the South Sumatera LRT project site.

Ms Kumoropotri joined SMEC in 2017 and was involved in the construction supervision work for the South Sumatera LRT project, considered one of Indonesia's national strategic projects. She shared that when she first started working on-site, she was concerned about how she would be received in such a male-dominated environment. 
She was very pleased to find out that she was well accepted and respected by her colleagues and the contractor's staff.  Her advice to others: "Be curious and ask plenty of questions to make the most of every project experience. My managers have been more than happy to share their experiences, offer suggestions and answer my questions about a project."  
Reflecting on her experience working on-site at the South Sumatera LRT project, Ms Kumoropotri said that having a supportive team and merit-based work environment helped her to overcome the challenges faced by female engineers in the industry. "Over time, there were no more gender barriers – attitude, work team ethic, results, contribution, solution, reliability and how we completed the deliverables made the difference." 
Getting heard in a male-dominated environment
Ms Della Permata, an environmental engineer also based on Jakarta, described how she learned to make her voice heard in a traditionally male-dominated industry.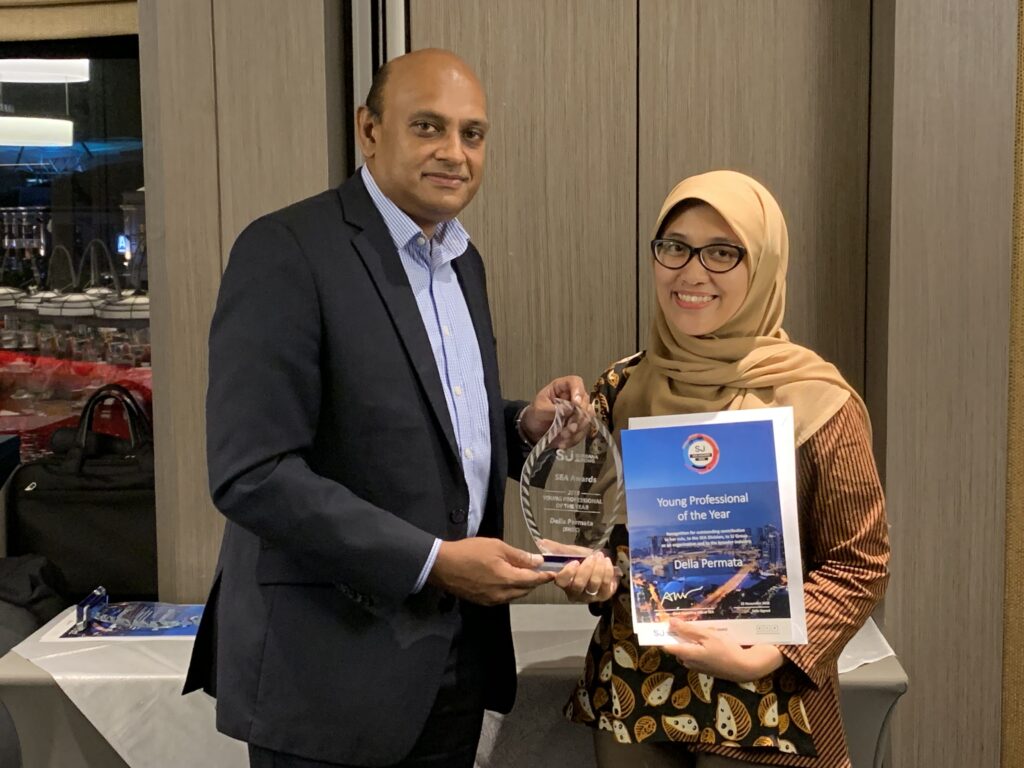 Ms Permata received Surbana Jurong Group's Young Female Professional of the Year Award in 2018.

"I used to keep very quiet in meetings," said Ms Permata, "But my manager at SMEC always asks what I think and if there is anything I want to add, and this has helped me be more active in sharing my thoughts." She noted that an encouraging and supportive manager can make a key difference in helping women to develop the confidence needed to fast-track personal and professional growth. 
Ms Permata is currently working as project manager for a major geotechnical and environmental study for large mining development in Indonesia, which involves a number of local and expatriate employees and covers comprehensive terrestrial and marine study works. "This role has broadened my perspective – to focus not only on the technical part of the project but also to consider other aspects as well. Project management has helped me understand the bigger picture of project implementation." 
Towards a more enduring career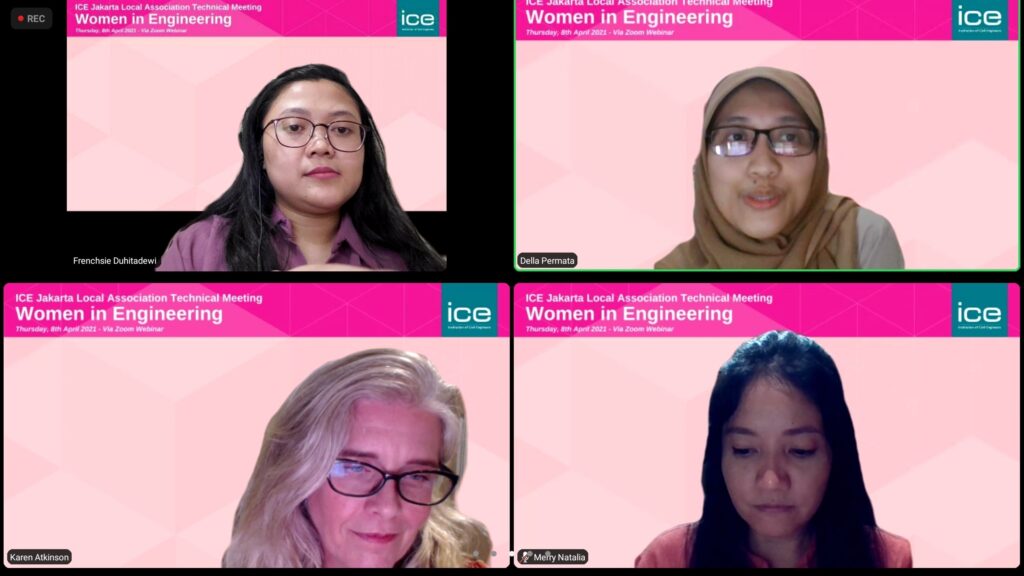 The ICE webinar was conducted over Zoom and featured (from top left)  Ms Frenchsie Kumoropotri, Ms Della Permata, the moderator Ms Merry Natalia and Ms Karen Atkinson.
Ultimately, Ms Atkinson believes engineering can provide a rewarding path for women, saying: "It is not always easy or plain sailing, for any gender, but the challenges it can offer – to be constantly learning new technical, management and leadership skills – are very exciting."  
Acknowledging the ongoing challenges that female engineers still encounter in the industry, she closed the webinar with an appeal to those in management positions to offer the women in their teams the mentorship and support they need. 
"Women are just as eager as men to learn and advance our careers," she said. She added that managers have an opportunity to pick up on lessons learned during this pandemic to consider policies that would help retain women with families in the engineering workforce.