Surbana Jurong and Singapore's Institute of Technical Education (ITE) have signed a MOU to advance the national effort to transition the labour-intensive Facilities Management industry to a higher-value, productive one powered by data analytics, predictive maintenance and smart solutions.
SJ will set up the ITE-Surbana Jurong Living Learning Lab (L3 and prounced "L" cube) at ITE Colleges. L3 is equipped with Internet of Things (IoT) Devices, Lift Monitoring Performance Devices, Surbana Jurong's 24K Integrated Platform of smart technologies to help students to learn in a realistic operating environment.
The MOU will also focus on training ITE students in Engineering and Info-communication Technology, including AI, BIM, Data Engineering, Digitalisation, Digital Facility Management, Digital Asset Monitoring, and Mixed and Virtual Reality (MR/VR).
Mr Wong Heang Fine, Surbana Jurong Group CEO, said, "Surbana Jurong has a major stake in building a robust eco-system that supports the transformation of the built environment through the entire value chain. Nurturing a future-ready talent force is a critical pillar of the eco-system."
Award of SMM Book Prizes
Earlier in May, SMM Pte Ltd, SJ's Facilities Management arm, also handed out book prizes to two promising graduands at Temasek Polytechnic. Ms Cheryl Sim, 20, and Mr Bryan Ng, 21, both pursued a diploma in Green Building and Sustainability and want to enter the FM industry.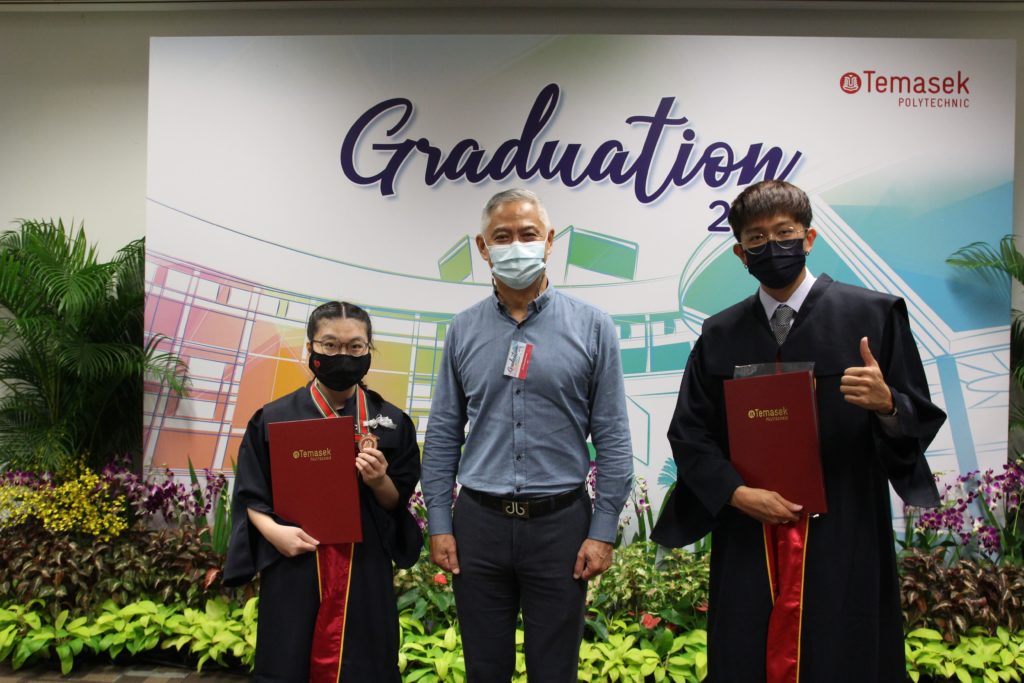 Temasek Polytechnic student Cheryl Sim and Bryan Ng with Desmond Seah GMFM of SMM Pte Ltd (centre) at their graduation when they received SMM Book Prizes.
Ms Sim had interned at SJ's Sustainability and Resiliency Office and learnt much about Green Mark buildings. "I also helped with lighting simulations related to skylights and windows and how this would change with naturally-ventilated buildings." She will soon study Project and Facility Management at university to fulfill her late father's wish to further her education.
Mr Ng's internship involved helping to design machine learning for chillers for shopping malls, schools and industrial buildings. He hopes to deepen his Python skills to help him progress in FM.
"SMM is delighted to recognise the interest of Cheryl and Bryan in FM," said Mr Desmond Seah, the General Manager, Facilities Management of SMM. "It is vital to nurture future-ready FM professionals and we are committed to help students to secure Singapore's green future."
Read more of the MOU on LinkedIn.